WHAT MAKES NATURE'S SELECT DIFFERENT?
We are not just another pet food company. We are a family who cares about you and your pet.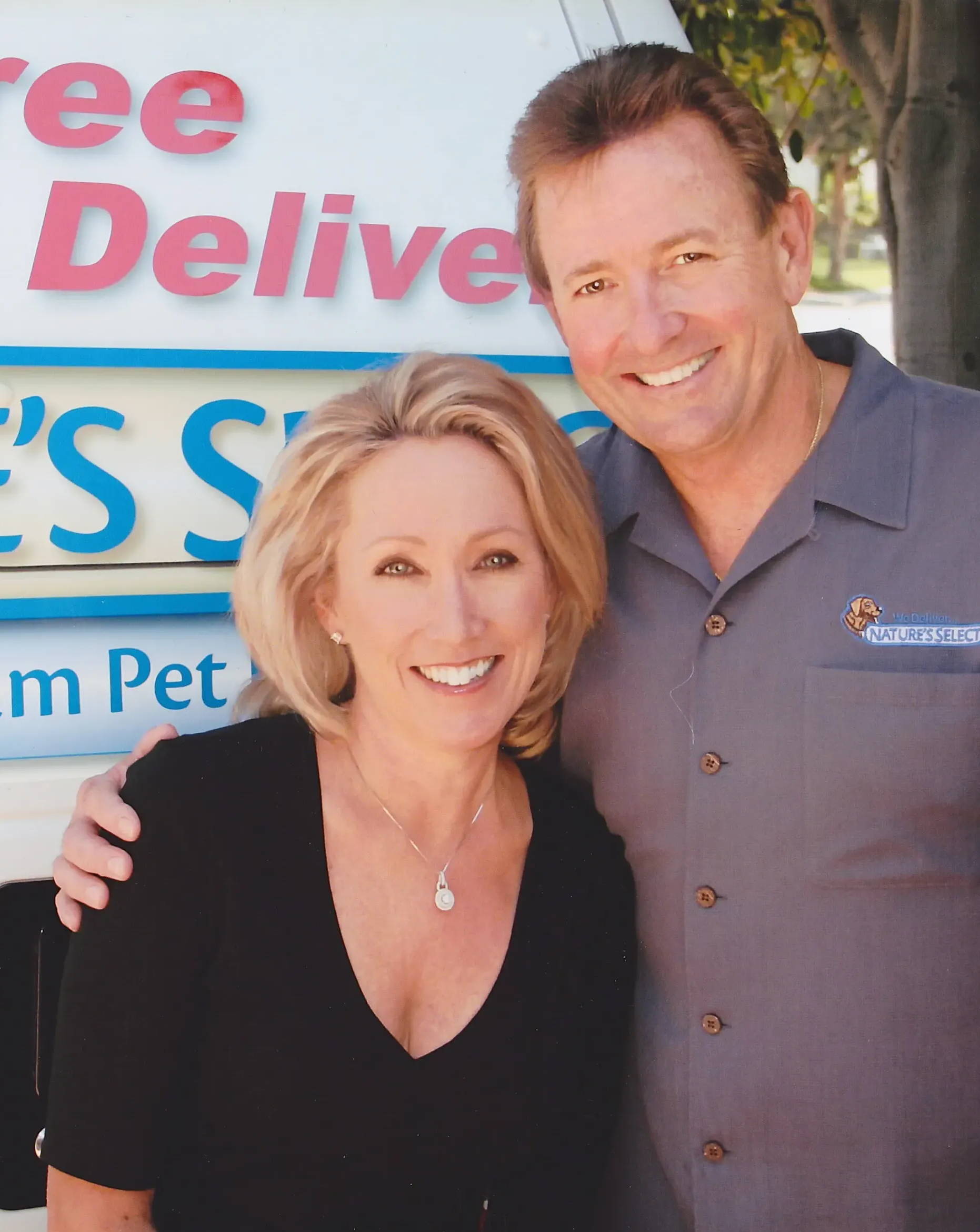 Paul and Diana Cavanaugh founded Paul's Pet Food in early 1994
Two important trends lead them to explore the pet food business; an increasing public awareness of healthier pet food, and an increasing desire for shopping convenience due to more households of two working adults. The next step was to create a pet food line to satisfy the clamor for a higher nutritional standard and to incorporate the convenience of free home delivery. With these in mind, Paul set out to build his pet food business.
The first challenge on the agenda was to find a pet food supplier and formulate a super-premium pet food for both dogs and cats that was an original recipe, unlike any others on the market at the time. Paul needed to compete with the well-known national premium pet food brands as well as deliver at a competitive price. This was no easy task but he was determined to build his business and to build it successfully.
After intense research, Paul connected with an individual who had 60 years of experience in formulating pet food. With his guidance and expertise, Paul developed the Paul's Pet Food products, known today as Nature's Select Pet Food.

Today, we are able to continue our approach of offering personalized service and quality pet products.
Nature's Select formulas were made with the proper balance of vitamins, minerals, proteins, and carbohydrates from all natural foods. These are all designed and produced to meet the health and nutrition needs of most household pets with no chemical preservatives, by-products or artificial ingredients. Paul's Pet Food was dedicated to delivering the freshest, highest quality product possible, just like Nature's Select still is to this day.
The next challenge for Paul was to create a delivery operation and marketing system that would allow him to efficiently distribute his products to consumers in the local market while also earning a fair profit. In the first year alone, Paul's Pet Food experienced 60% growth- an amazing feat for any business, especially a small business.
Nature's Select is always evolving and constantly adapting to the changing markets, consumer buying trends, technology and to the needs of our customers. As the years go by, Nature's Select continues to grow with our customers and adapt to the needs and wants of both the pet owner and the pet. We look forward to providing you quality products through personalized customer service. Welcome to our Nature's Select family!
Providing Excellence Since '94
---
Since our first truck load of pet food in a forklift that Paul drove himself, to the thousands of deliveries we do monthly, we strive for excellence because that is the high bar we set for ourselves here at Nature's Select Pet Food yesterday, today, and tomorrow.
---
Since our humble beginnings as Paul's Pet Food Delivery Express in the early 1990s, we have always been a family-owned business. When you choose to shop with us, you are choosing to support families - not large corporations like most other pet food companies you see in the stores.
---
Our pet food is not designed to sit in a warehouse for months and months before it gets to your door. We make our pet food fresh, bi-monthly, to ensure that when it ships to us it was made within weeks rather than months. Our goal is to have the freshest pet food possible for your pet to enjoy.
From day one, we have always been about healthy & natural products, ensuring your pet receives fresh food. After 26+ years in business, we are proud to say we've never had a recall!
— Paul Cavanaugh, CEO & Founder
Let us help you, to help your pet.
Does your pet have a constant health issue you're trying to fix? Maybe they suffer from allergies, a sensitive stomach, loose stool, biting paws, shaky ears, or all of the above - we promise there IS a solution and we are here to help you discover it. Our team of Pet Care Advisors are here to help you every step of the way, regardless if it takes 2 weeks or 2 months. We have seen and heard it all over the past 26 years, and all questions are welcome. Trust us - there is no such thing as a "dumb question" in the pet industry! Pets are known to get into the trash, eat grass, chew on rocks and socks. While we are in no way the vet, we are a team of honest people who want to help your pet live his healthiest, happiest life possible. Pet nutrition is key in longevity and we want to help your pet reach his full potential.